HISTORY
Founded in 1997. Established in 2012, the 1st nationwide prostate cancer suicide prevention lifeline service center.
Launched in 2019, fast track funding cancer immunotherapy scientific research for a prostate cancer cure.
4 rotating images. To stop rotation, place cursor on image.
MESSAGE FROM CEO & President.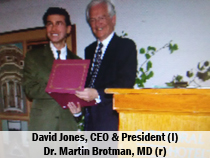 There are over 4 times the incidence of prostate cancer in 2018 as in the 1950's and there are no effective treatments. According to the National Cancer Institute website, there are no clinical trials for a prostate cancer cure. Consequently, Prostate Cancer Resource, a charitable nonprofit organization, will fund translation scientific research programs, based on linking genetic signature of an individual patient's prostate cancer with immunotherapy. The research must have a maximum duration of 3 years.
Presently, PCR medical advisory committee are reviewing for soundness of science, the following:
(a) Cancer immunotherapy agent, CART-T 14, oncolytic virus agent. Oncolytic virus is a virus that infects and kills cancer cells.
(b) MKC8866 drug that strongly inhibits the development of prostate cancer tumors.
(c) Lutetium 177 Lu-PSMA-617, which carries a radioactive component that attach to the prostate specific membrane antigen (PSMA) receptor on the tumor cells. Its radiation component destroys the tumor cells.
(d) Immunotherapy with monoclonal antibodies, such as pembrolizumab in combination with Lutetium 177 Lu-PSMA-617, to help the prostate cancer patient's immune system attack the cancer and interfere with the ability of the tumor cells to grow and metastasize.
PCR grant making process is designed to expedite funding on research (including university-based research) that focus on a prostate cancer cure. Grant proposals are independently assessed by a panel of scientists. Grant recommendations are sent to Board of Directors for review and approval. Award decision to be made in 30 days. Funding in 7 days.
David Jones, CEO & President.
ABOUT
Prostate Cancer Resource, founded in 1997, headquartered in San Francisco, California, is a tax-exempt 501 (c)(3) non-profit public benefit organization operated exclusively for charitable purposes. Mission is to fund scientific research for a cure, education and mental health crisis & suicide prevention lifeline for individuals in crisis.


Free PSA screenings - Suicide Prevention Lifeline - Information & Referrals- Fund cure research 2019
Prostate Cancer Resource provided free blood test for the detection of prostate cancer to twenty-five dads at the Las Vegas library. Participants age ranges between 33 to 62 years.
Special thanks to Clark County Las Vegas Library administration and Eboni Palmer for donating the multiple-room for the screening event. Also, PCR volunteer, Burt Johnson (Hawaiian shirt) for a great job at the sign-in desk.
This free screening event was supported by a grant from Nevada State Health Division.
PHOTO IMAGES (13 Images)

Prostate Cancer Resource teamed-up with Nevada State Health Division, Minority Office, to provide free PSA (blood test) screenings to the unemployed, uninsured, low-income and homeless veterans at the Salvation Army Family Services This event was sponsored by Nevada State Health Division.


Prostate Cancer Resource launched the first telephone hotline providing life-saving information, referrals and suicide prevention. The service is free and confidential. Talk with a behavioral mental heath counselor (LCSW) with a Master's degree.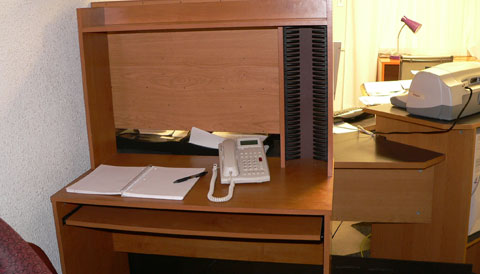 PCR received an invitation from Phillip B. Hollon, Director, Residential Services Division, Catholic Charities of Southern Nevada requesting the opportunity to partner with us to offer free PSA screenings to 1,000 homeless men for the early detection of prostate cancer.
HISTORIC PCR FREE SCREENING EVENT FOR U.S. VETERANS.
PHOTO IMAGES (13 images)
HARLEY DAVIDSON JOIN PCR TO FIGHT PROSTATE CANCER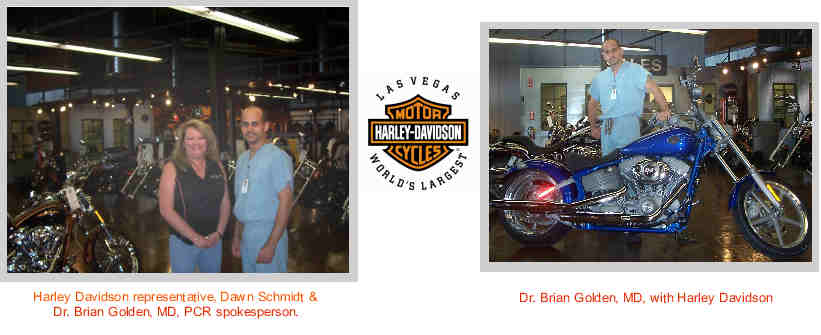 SEPTEMBER NATIONAL PROSTATE CANCER AWARENESS MONTH EVENT
Participants signed-up and were given information on signs, treatment options and a voucher to receive free PSA test at Clinical Pathology Laboratories.
PHOTO IMAGES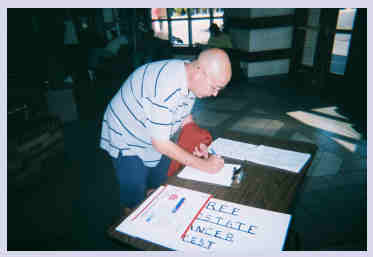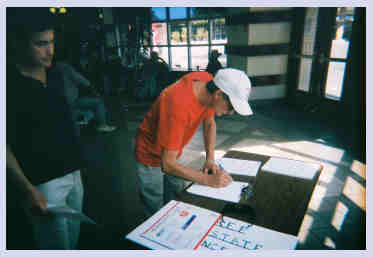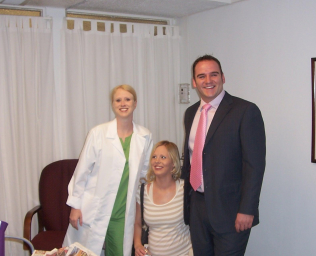 (r) PCR event spokesperson Bo Woodward
(m) supporter, (l) Mary, lab technician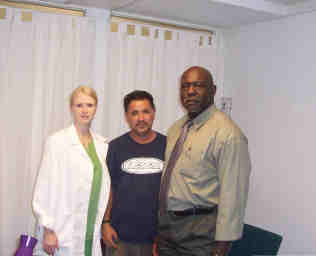 (r) PCR Dr. Greg Daniels, (m) participant
(l) Mary, lab technician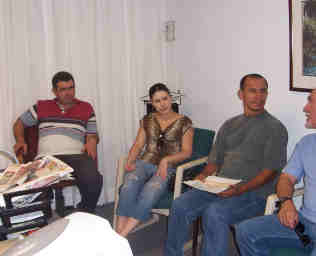 Waiting room area for participants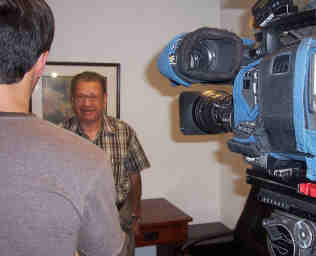 Participant speaking with KVBC TV
Channel 3 cameraman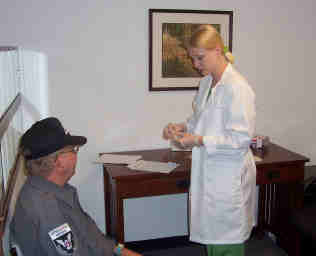 Participant being tested at PCR facility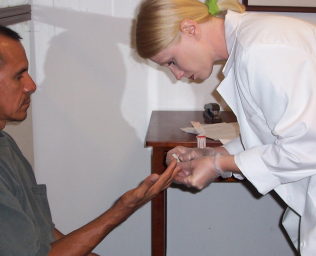 Participant being tested at PCR facility
DR. BRIAN GOLDEN, MD JOIN PCR AS A CONSULTANT.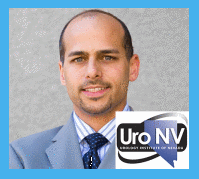 Dr. Brian Golden graduated in 2000 from the University of California at San Francisco (UCSF) medical school. He then completed two years of general surgery and four years of urology residency at the University of Colorado Health Science Center in Denver. He subsequently completed a clinical fellowship in laparoscopic and robotic surgery with Urology San Antonio in Texas. This specific training and subsequent surgical experience combine to make Dr. Golden one of the most experienced surgeons in the Southwest U.S. in robotic prostatectomy and laparoscopic kidney and adrenal surgery.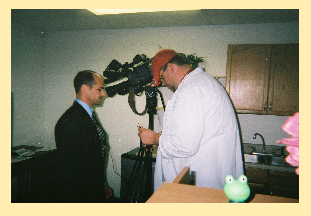 KVVU TV Fox 5 News technician putting "mic"
on Dr. Brian Golden.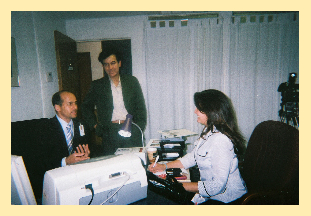 Davy Jones, with Dr. Brian Golden and Rosano
Romero, reporter for KNBC - Media Day.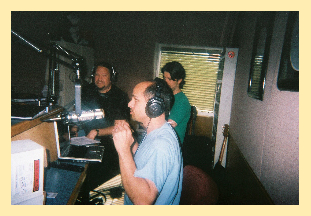 Dr. Brian Golden, MD, (in scrubs) being
interviewed "Live" on KOMP Morning Show,
host Craig (background).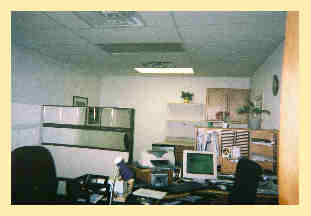 Prostate Cancer Resource Las Vegas
Office/Reception Area.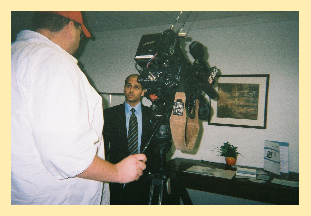 Dr. Golden doing 'takes" with Fox 5 News
technician.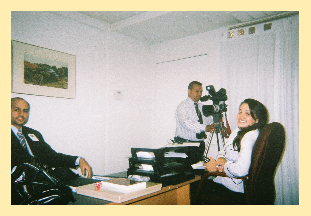 All smiles. End of interview.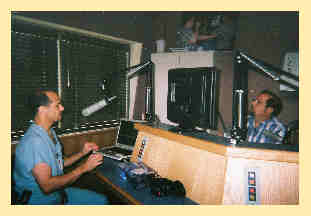 Dr. Brian Golden taped show for Father's Day on
Lotus Broadcasting Stations, KENO, ESPN, KBAD Fox
Sports, KXPT and KOMP with host Andy Kaye.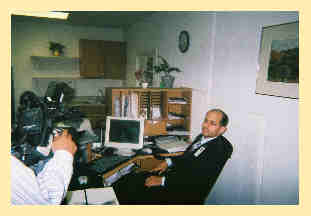 Prostate Cancer Resource spokesperson
Dr. Brian Golden in reception area.




David Jones, (l) Safeway, Jennifer weber (r) PCR SF facility.

PCR David Jones, President (left) with Dr. Martin Brotman, MD (right) receiving Recognition Award at San Francisco hotel.

Support ground breaking scientific research for a cure.