Prostate Cancer Resource have save thousands of men lives in partnership with the following: Apple Inc; National Cancer Institute; California Pacific Medical Center; United States Veterans Initiative; United Healthcare Group; IRA and LEONORE Gershwin Trusts Philanthropic Fund; St. Anthony Foundation; Glide Memorial Dev. Corp; The SAFEWAY FOUNDATION; WAL-MART FOUNDATION; LLC Trustee for Pacific Gas & Electric. Company/Employee Giving; Catholic Charities; Television & radio news media: Fox News; Univision; ESPN radio stations; NBA GOLDEN STATE WARRIORS; Mike Bertnick, Dew Organic; Prostate Cancer Resource nation-wide suicide prevention life line service center for men with prostate cancer(partial list). Learn more...scroll page.
ANNOUNCEMENT
PROSTATE CANCER RESOURCE HAS THOUSANDS OF FACE SHIELDS
AVAILABLE FOR DISTRIBUTION
If you are a cancer patient or survivor, you are at a higher-risk of serious health complications from COVID-19. Prostate Cancer Resource has thousands of face shields available for distribution. To obtain a free face shield, please call (415) 994-7435. We would like to thank Apple for their generous donation of face shields.
COVID-19 EMERGENCY HUNGER - RELIEF FOOD DISTRIBUTION DRIVE
The COVID-19 pandemic is creating food insecurity and the demand have skyrocketed among our vulnerable population. Prostate Cancer Resource implemented an emergency food distribution program, in response to local cancer patients in-treatment, struggling to make ends meet and have to make difficult choices, regarding their next meal. Our goal is to ensure that our vulnerable population have access to nutritious food to help fight hunger: boost bone health and stay stronger.
OPERATION
Distribution is on a once-a- week basis. Every Fridays, starting June 29, 2020, 1 p.m. to 4 p.m. Expect to serve 200-500 persons. Each emergency food package, provides a minimum of seven day's worth of nutritionally balanced food in-to-go containers, that could be reheated and non-perishable foods.
PICK-UP
At Prostate Cancer Resource facility, 2517 Mission Street, Suite 7, San Francisco. Our volunteers are taking all precautionary measures to ensure a safe controlled environment. Social distancing is enforced and wearing of a mask is required. For more information, please call (415) 994-7435.
ABOUT
For more than 22 years, Prostate Cancer Resource, a public benefit 501 (c) (3) nonprofit organization, headquartered in San Francisco, California continues to play a crucial role in the fight against prostate cancer. Our mission is dedicated to public service campaign meant to highlight the importance of early detection of the disease; education; prevention; diet and providing telephone lifeline for individuals battling cancer in need of emotional support and connection to resources.



Prostate Cancer Resource launched the first telephone hotline providing life-saving information, referrals and suicide prevention. The service is free and confidential. Talk with a behavioral mental heath counselor (LCSW) with a Master's degree.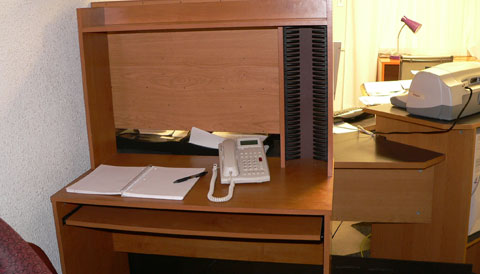 David Jones, (l) Safeway, Jennifer weber (r) PCR SF facility.

PCR David Jones, President (left) with Dr. Martin Brotman, MD (right) receiving Recognition Award at San Francisco hotel.